Thinking about sprucing up your kitchen this year?
It's been on my mind a lot lately, and as you probably know, a full kitchen update can be CRAZY expensive. One way to mix it up without spending tens of thousands of dollars is to swap out all your visible countertop appliances and accessories with fresh new colors. Let's face it, most of your stuff probably doesn't match anyway, does it? I found one way to make a project like this manageable is to put together a goals list of the items you want, then purchase one or two each payday – you never break the bank, and at the end of a few weeks or months, you've cheered your kitchen space immeasurably.
One kitchen color that always makes me smile is aqua. Though there are several variations on the shade, Kitchenaid has a collection of appliances and accessories under the name Aqua Sky that I just adore. To help you get started, I threw together a list of the top things you need from this collection RIGHT NOW.
*Disclaimer: the following product list contains affiliate links. This means that if you make a purchase after clicking on any of them, I may receive a small commission from the seller. There is absolutely no extra cost to you. I like to get this information right up front, because I think you're smart enough to know better, and honestly it's just not a big deal. You may have noticed you don't get beat to death with ads when you visit here – I don't have them, so the occasional affiliate link is how I help cover the cost of running this website. Thanks for hanging out, and enjoy the glorious color collection!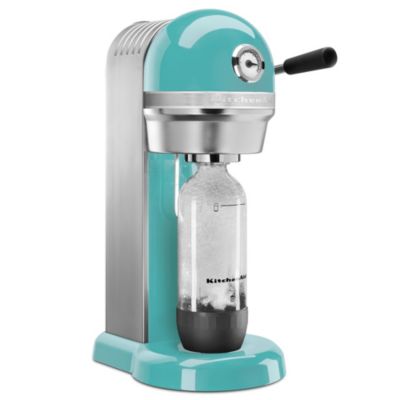 KitchenAid Sparkling Beverage Maker Powered by SodaStream in Aqua Sky


KitchenAid KCO275AQ Aqua Sky 12-inch Digital Convection Countertop Oven

Aqua Sky Pizza Wheel


Aqua Sky Can Opener


Aqua Sky Utility Whisk


Aqua Sky Gourmet Meat Tenderizer
You could use this beauty of a mallet to make these delicious chicken & sausage rolls.


5 Quart Aqua Sky Colander


KitchenAid KSM150PSAQ Aqua Sky 5-quart Artisan Tilt-Head Stand Mixer with $30 Rebate
You can't beat a rebate, but you can beat this dreamy No Shortening Buttercream with your shiny new mixer.


Aqua Sky Set of 4 Prep Bowls


Aqua Sky 3 Piece Dish Rack
Pin & Share!